Ready to Grow & Scale Your Business Blog?
Your Business Blog is a Powerful Asset. Why Not Increase Its Reach and Marketing ROI?
We believe strongly in the importance of a business blog. It's a sure way to publish content which can resonate with prospective customers and attract them to your website. There, you have the opportunity to convert them into leads for your business.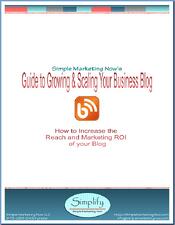 Critical to successfully increasing the reach and marketing ROI of your business blog is understanding how your blog fits into your overall business strategy. This 22 page guide will help.
Simple Marketing Now's Guide to Growing and Scaling Your Business Blog will help you:
Attract visitors to your blog
Convert those visitors into subscribers to your blog
Turn those subscribers into evangelists
In so doing, you'll generate qualified traffic to your website and eventually convert them into leads - something every business yearns for... Right?
Simply complete the form on the right, and download the Guide to Growing and Scaling Your Business Blog.
Won't You Share This Guide?